Events
Check out what's going on in the region.
If you would like to request a talk or training, or you have an event you'd like to add, you can get in touch via email at xr.eoe.tech@protonmail.com.
SuperEast Supergroup Monthly Meeting
Every last Wednesday of the month, 8pm-9pm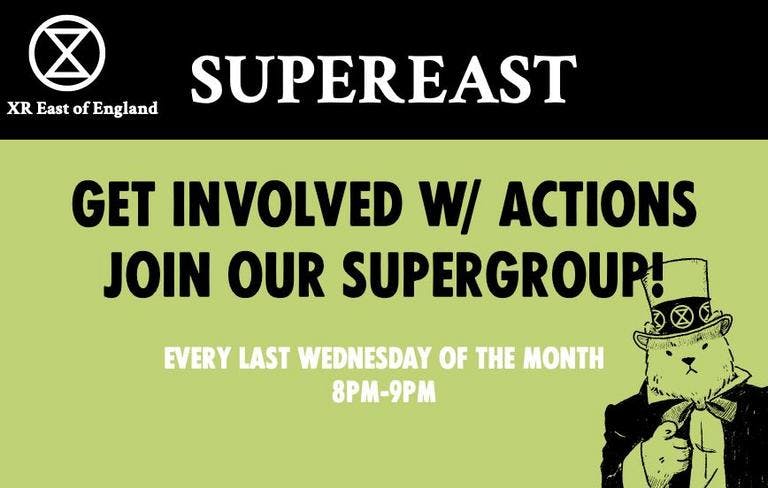 SuperEast: New actions-focussed Supergroup for our region. Open to all rebels across the East of England. SuperEast aims to connect and support rebels to develop ideas, plan, resource and coordinate actions across EoE.
We meet every Last Wednesday of the month, 8-9pm.
Join Zoom Meeting https://us02web.zoom.us/j/85318581401?pwd=bFhIZ0ZxOTk0ZlZWVzJHUEE5TnBFUT09
Meeting ID: 853 1858 1401 Passcode: eoe123
This is a drop-in Zoom, no regular commitment is needed.
We will keep to the hour! 😉
Any questions? Please contact xr_cam_ag_support_wg@protonmail.com
Rebellion Academy
Rebellion Academy is an online learning platform full of trainings for you to work through in your own time. This 1 minute video shows you how to log in and navigate through Rebellion Academy:


We've got a huge range of trainings for different rebels and roles, from Regen to NVDA to press releases. This 1 minute video shows you how to complete a course: